History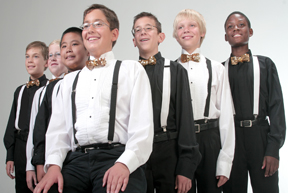 The International Boys and Men's Choral Festival (IBMCF) in Arizona honors male singers of all ages promoting artistic opportunities that foster intercultural understanding and camaraderie. Previously, this festival was successfully held in Arizona in July 2011, 2014, 2017 and 2019 with participants working under master conductors David Hill (BBC Singers), Hirvo Surva (Estonian National Opera Men's Choir), Ronald Cheung (Yip's Children's Choir of Hong Kong), Kent Jue (Ragazzi Boys Chorus), John Boonenberg (The Boychoir of Ann Arbor), Fred Meads (Princeton Boychoir), and Julian Ackerley (Tucson Arizona Boys Chorus).
This concept of a festival focused only on male singing from boys to men is preceded by efforts of the now non-operational Alliance For Arts and Understanding (1993) which presented past AmericaFest and World Festival of Singing for Boys and Men in Minnesota and the Czech Republic. The mission is currently continued with the Arizona IBMCF.
IBMCF has a distinctive partnership with the American Choral Directors Association (ACDA) which serves as a cosponsor.  The initiative's objective is to focus on male choral music at all ages, particular emphasis on boys singing, the worldwide predicament of lower members of capable male singers, and the lack of opportunities that nurture artistically talented men.  IBMCF, supported by ACDA, is a global program which encourages male artistic expression in a present-day society that benefits from their leadership.