Mission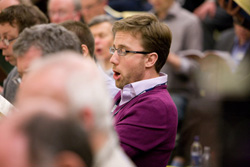 The mission of the International Boys and Men's Choral Festival is multi-faceted.  In addition to interaction with other boy and men choristers who love to sing, the festival offers an incomparable choral experience advancing both artistic excellence and character development.
Participants will join in rehearsal, master classes and performances with accomplished international conductors.  In addition there will be sports and communal activities to foster socialization and world-wide friendships.  A trip to the extraordinary Grand Canyon, one of the world's most visited and inspiring landscapes, is also scheduled.
A distinctive aspect of the weeklong Arizona festival is the twofold opportunity for entire choir as well as individual singer participation.  Choirs are given options for individual performances as well as combined mass choir experiences.  Individual singers can also participate in the massed festival ensemble taking advantage of the musical events as well as friendship building activities promoting global insight.